WWII US ARMY AIR CORPS PILOT UNIFORM THEATER MADE read bio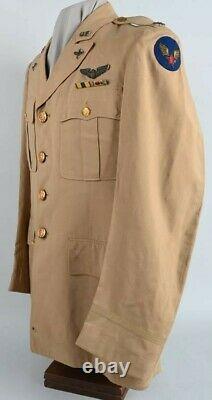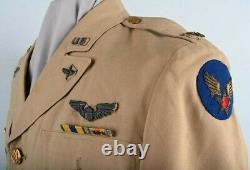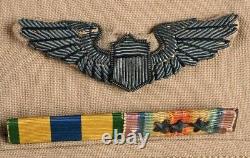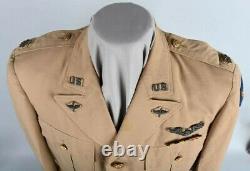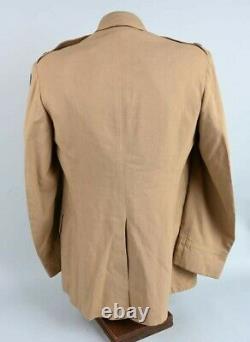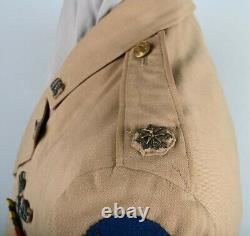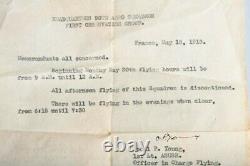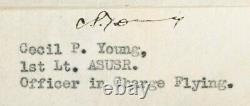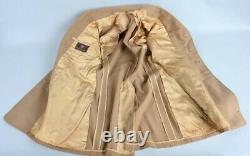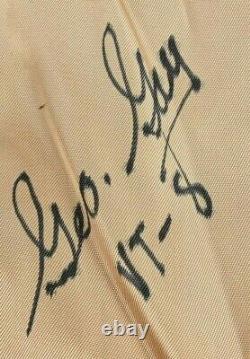 WWII US ARMY AIR CORPS PILOT UNIFORM THEATER MADE. WWII US Army Air Corps pilot uniform of Major Cecil P. Tunic has stunning insignia in bullion thread. Tunic is a 39L and has a beautiful AAC shoulder patch in bullion thread. To each shoulder are two gold major oak leaves also in bullion thread.
To the collar are standard US and wing and prop devices all in bullion thread. Finally to the chest is a stellar set of three inch bullion pilot wings and underneath the set of wings is a Mexican Border and a Winged Victory medal bar. The most unusual particular thing about this uniform is to the interior of the coat, it is autographed by Ensign George Gay of VT-8 of the Battle of Midway fame. In the top pocket of the jacket is a cut order from Lt.
Cecil Young when he was in WW1 while serving in the 90th Aero Squadron along with a photo of his with his son taken in the 1940's. In the photograph he is wearing the same ribbon bar configuration. Like millions of Americans at the time, Gay chose to sign up for the coming war, leaving Texas A&M University. He tried to join the Army Air Corps as a pilot but was rejected for medical reasons.
He then tried the United States Navy in early 1941. Gay completed flight training and was commissioned as an ensign in September 1941. He joined the newly formed Torpedo Squadron 8 under Lieutenant Commander John Charles Waldron. He and his unit were aboard the aircraft carrier USS Hornet in April 1942 when Lieutenant Colonel Jimmy Doolittle launched his raid on Tokyo. One week later, Hornet arrived at Pearl Harbor to join USS Enterprise as part of Task Force 16 during the Battle of Midway. During the Battle of Midway, Gay was the first of his squadron to take off from Hornet on June 4, 1942. Gay's unit found the Japanese carrier fleet and launched an attack without any fighter plane support. Although he was wounded and his radioman/gunner, Robert K. Huntington, was dying, Gay completed his torpedo attack on the Japanese aircraft carrier Soryu, but Soryu evaded his torpedo.
He then brought his Devastator into a tight turn as he approached the carrier's island, and flew aft along the flight deck's length, thus evading anti-aircraft fire. He later stated he had a "split second" thought of crashing into the Japanese aircraft he saw being serviced on the flight deck. Gay With his aircraft still in relatively good condition, he decided to make for Hornet after clearing the Japanese carrier. However, five Mitsubishi A6M Zeros brought his aircraft down in a hail of machine gun and cannon fire, killing his rear gunner, ARM3c George Arthur Field.
Exiting his aircraft, and floating in the ocean, he hid under his seat cushion for hours to avoid Japanese strafing attacks and witnessed the subsequent dive bombing attacks and sinking of three of the four Japanese aircraft carriers present. After dark, Gay felt it was safe to inflate his life raft. He was rescued by a Navy Consolidated PBY Catalina after spending over 30 hours in the water. Gay was later flown to USS Vincennes (arriving June 28, 1942), before being transferred home.
Of the squadron's thirty pilots and radiomen, Gay was the only survivor. Gay later met with Admiral Nimitz and confirmed the destruction of three Japanese carriers he had witnessed - Akagi, Kaga and Soryu. He was featured in the August 31, 1942 issue of Life magazine. Following Midway, Gay took part in the Guadalcanal Campaign with Torpedo Squadron 11, and later became a Navy flight instructor.
He was awarded the Navy Cross, Purple Heart and Presidential Unit Citation for his actions in combat at Midway and was later awarded an Air Medal. The item "WWII US ARMY AIR CORPS PILOT UNIFORM THEATER MADE read bio" is in sale since Monday, October 19, 2020. This item is in the category "Collectibles\Militaria\WW II (1939-45)\Original Period Items\United States\Pins". The seller is "jwgthedemon" and is located in Gates Mills, Ohio. This item can be shipped to United States.

---