US ARMY AIR FORCES PILOT SUNGLASSES With ORIGINAL CASE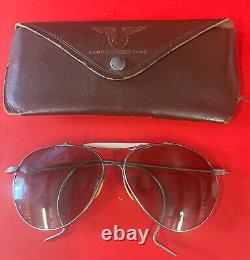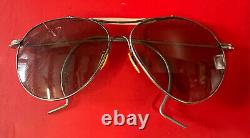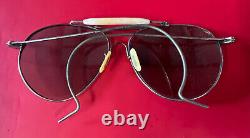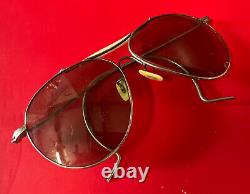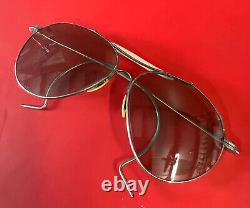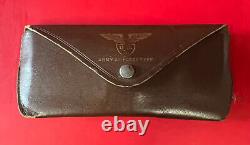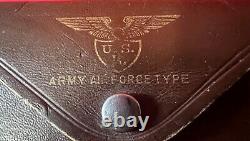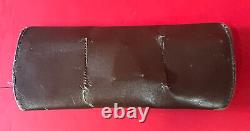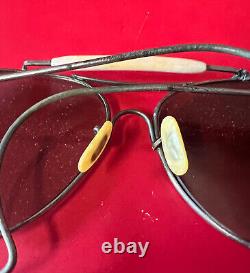 This exceptional WWII vintage set of Pilot sunglasses is a rare find, embodying the iconic style of an era defined by heroism and adventure. In a remarkable state of preservation, these sunglasses are in used very good condition, showcasing the enduring craftsmanship of the past. These sunglasses boast a sturdy construction, designed for both durability and functionality. The tinted glass lenses not only add to their timeless appeal but also provide essential protection from harsh sunlight. The wrap-around arms ensure a secure fit, allowing these sunglasses to stay firmly in place, even in the most challenging conditions.
A distinctive feature of these sunglasses is the prominent crossbar adorning the top, adding an authentic touch of vintage military style. The set comes complete with its original issue carrying case, marked with the inscription ARMY AIR FORCES TYPE. These sunglasses are not just a testament to the past; they are a piece of history ready to be embraced by enthusiasts and collectors alike. Immerse yourself in the classic WWII style with these meticulously crafted pilot sunglasses, reminiscent of the brave aviators who once donned similar pairs during their daring missions. Don't miss out on the opportunity to own a piece of wartime heritage.
These sunglasses are not only a fashionable accessory but also a poignant reminder of the courage and resilience of those who served during World War II. Get ready to step into the footsteps of history with this authentic and timeless accessory.
If there is a problem or concern contact me and I'll make it right. Once feedback is received I will reciprocate.

---