WWII August 1945 Army Air Force Bomber Bail Out Map Okinawa, lo-Shima, Japan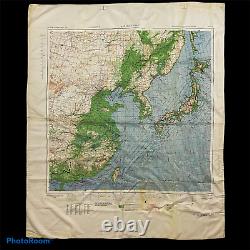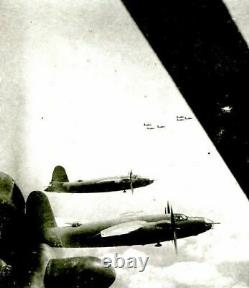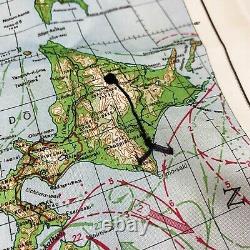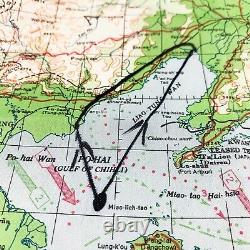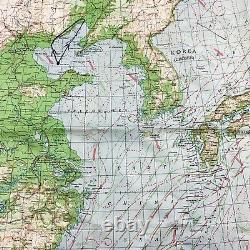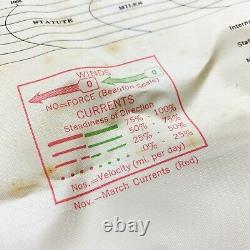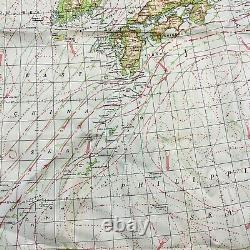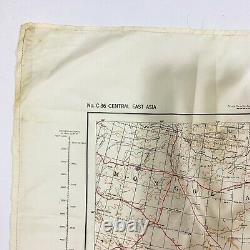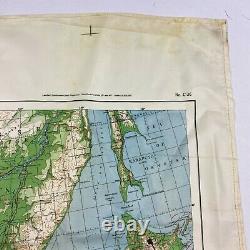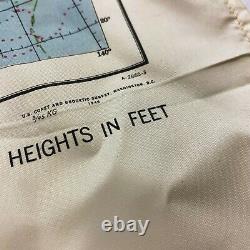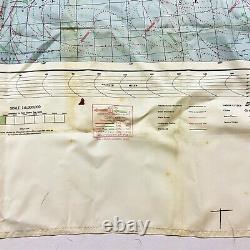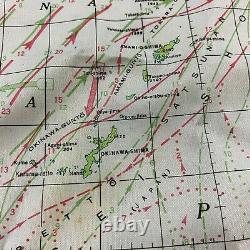 This heavily used and flight path annotated'C-36' Army Air Force map is dated August of 1945. This silk printed map shows heavy wear as this map was carried by a A. Bomber crew member as the U. Began assaulting and bombing the Japanese homeland. The map shows amazing flight paths annotations of various bombing targets (seen in heavy black ink).
This map along with others like it were given out to pilots and crew and the U. Began taking islands throughout the Pacific Theater. And other Allied forces began their assault on the infamous islands of Okinawa, Iwo Jima, and the final bombings of the Japanese homeland, maps like this were given out.
What makes this map so interesting is it is supposed to be a double sided map showing both maps C-36 (Central East Asia) and C-37. However, the backside of this map is blank white silk. This may have possibly been a rare printing error when this map was printed.
This map shows a wide range of geographical landscape and specifically shows the islands of Okinawa, Kita-lo jima, and Japan. Maps such as these were used towards the end of the war during those final months as bomber crews were given targets on islands closer to Japan.
This map is dated with a print date of August, 1945 and was printed shortly following the U. The Battle of Okinawa Japanese:??? Hepburn: Okinawa-sen, codenamed Operation Iceberg, was a major battle of the Pacific War fought on the island of Okinawa by United States Marine and Army forces against the Imperial Japanese Army. The initial invasion of Okinawa on April 1, 1945, was the largest amphibious assault in the Pacific Theater of World War II.
The battle itself lasted until July 2nd of 1945. The United States military air campaign waged against Japan began in earnest in mid-1944 and intensified during the war's last months.
While plans for attacks on Japan had been prepared prior to the Pacific War, these could not begin until the long-range B-29 Superfortress bomber was ready for combat. From June 1944 until January 1945, B-29s stationed in India staged through bases in China to make a series of nine raids on targets in western Japan, but this effort proved ineffective. The strategic bombing campaign was greatly expanded from November 1944 when bases in the Mariana Islands became available as a result of the Mariana Islands Campaign. These attacks initially attempted to target industrial facilities using high-altitude daylight "precision" bombing, which was also largely ineffective. From February 1945, the bombers switched to low-altitude night firebombing against urban areas as much of the manufacturing process was carried out in small workshops and private homes: this approach resulted in large-scale urban damage.
Aircraft flying from Allied aircraft carriers and the Ryukyu Islands also frequently struck targets in Japan during 1945 in preparation for the planned invasion of Japan scheduled for October 1945. During early August 1945, the cities of Hiroshima and Nagasaki were struck and mostly destroyed by atomic bombs. During WWII hundreds of thousands of maps were produced by the British on thin cloth and tissue paper.
The idea was that a serviceman captured or shot down behind enemy lines should have a map to help him find his way to safety if he escaped or, better still, evade capture in the first place. This cloth printed on acetate rayon depicts a map of Japan and the South China Seas and the East China Sea. The map features in-print text of the titles to the top margins, and of the publication date of 1945 to the bottom margins. These cloth charts were worn as neck kerchiefs by pilots during WWII as part of their survival gear.
At the time this chart was produced our understanding of the jet stream was rudimentary. High altitude wind currents are shown though not in as much detail as a modern chart/map. Our B-17 and B-25 pilots and crews learned that there were some very strong air currents aloft when their aircraft's times to targets took much longer than anticipated and the return trips went faster.
This chart/map reflects the limited knowledge of the time but was a tremendous help to the pilots and crews nonetheless. Allied forces conducted many naval and air raids on Japan during World War II, causing extensive destruction to the country's cities and killing between 241,000 and 900,000 people. During the first years of the Pacific War these attacks were limited to the Doolittle Raid in April 1942 and small-scale raids on military positions in the Kuril Islands from mid-1943.
Strategic bombing raids began in June 1944 and continued until the end of the war in August 1945. Allied naval and land-based tactical air units also attacked Japan during 1945. Japan's military and civil defenses were unable to stop the Allied attacks.
Fuel shortages, inadequate pilot training, and a lack of coordination between units also constrained the effectiveness of the fighter force. Despite the vulnerability of Japanese cities to firebombing attacks, the firefighting services lacked training and equipment, and few air raid shelters were constructed for civilians. As a result, the B-29s were able to inflict severe damage on urban areas while suffering few losses. The Allied bombing campaign was one of the main factors which influenced the Japanese government's decision to surrender in mid-August 1945.
However, there has been a long-running debate over the morality of the attacks on Japanese cities, and the use of atomic weapons is particularly controversial. The most commonly cited estimate of Japanese casualties from the raids is 333,000 killed and 473,000 wounded. There are a number of other estimates of total fatalities, however, which range from 241,000 to 900,000. In addition to the loss of mostly civilian life, the raids contributed to a large decline in industrial production. This item is in the category "Collectibles\Militaria\WW II (1939-45)\Original Period Items\United States\Field Gear, Equipment".
The seller is "premierrelics" and is located in this country: US. This item can be shipped worldwide.
Country/Region of Manufacture: Japan

---