WW11 2 Army Air Corp OFFICER's Brown Jacket Size 39 Reg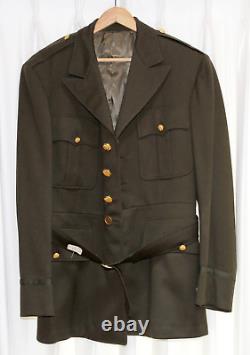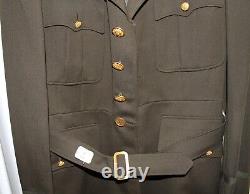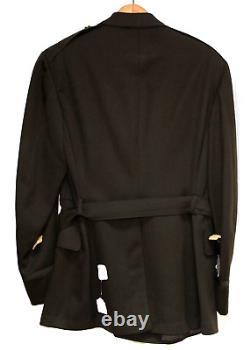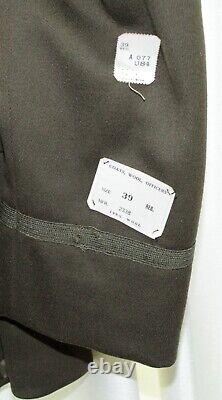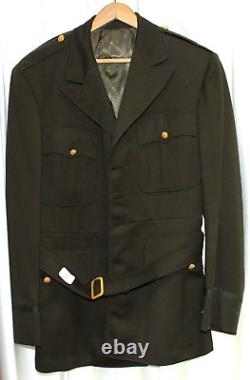 This is an ORIGINAL WW II ARMY AIR CORP OFFICER'S CHOCOLATE BROWN WOOL DRESS JACKET SIZE 39 Regular. I took the measurements myself -- may be off a little? From arm pit to arm pit it is 19 Wide. From the top of the shoulder to the end of the sleeve cuff it is 24 Long, From the top of the color to the bottom of the jacket it is. On the front there are 4 buttons for closure 3 gold colored buttons with Army Officers Buttons and 1 plastic brown coffee colored button (Which the belt goes over). There are 2 breast pockets and 2 large bottom pockets with Army Officers Buttons and flaps. On the inside of one of the large bottom pocket is a sewn in label with the following information: Coat, Wool, Elastique, O. Around the waist on the back there are belt loops for the belt, The belt buckle is also a gold color. On the shoulders there are epaulets also with Army Officers Buttons. Inside the jacket has a greenish satin type of lining.
Also on the inside there is a sewn in label which reads REGULATION ARMY OFFICER'S COAT WITH THE ARMY EMBLEM. I found this at a recent estate sale -- the owner never wore this one.

---