B-2 Flying Cap USAAF Winter WW2 B2 US Army Air Forces Leather Sheepskin Hat WWII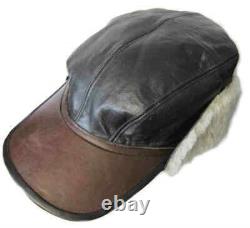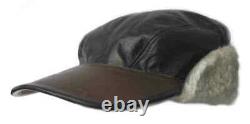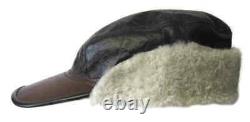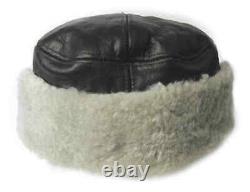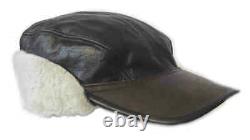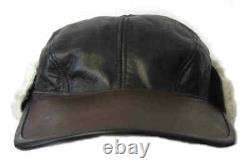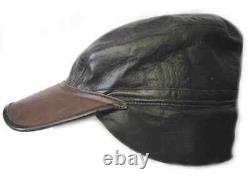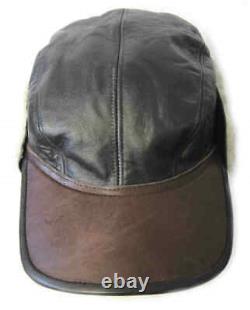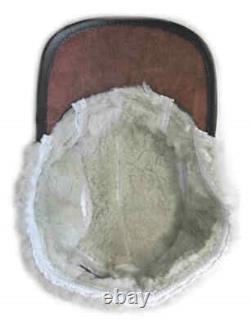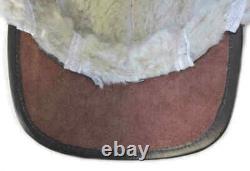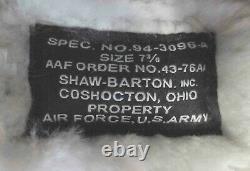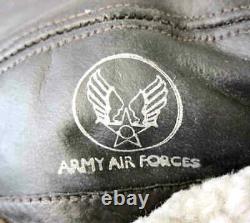 Quote from Ebays rules for ALLOWED postings: WWII memorabilia that does not bear the Nazi or SS markings. WW2 USAAF (United States Army Air Forces) A-2 Winter Flying Cap. Be the envy of your fellow USAAF buddies and wear a correctly made and marked reproduction USAAF B-2 Flight Cap based on an original from WW2! Stiff leather peak trimmed with leather hide.
100% Leather outer and 100% shearling sheepskin inner. Correct cotton ticking up the inner seams. Genuine sheepskin shearling lined 1/4 thick.
Logo on the outside if required. Correct manufacturers label sewn on the inside.
Our reproduction B-2 flying cap introduced in 1939, is crafted from sheepskins dyed in dark brown with inner shearling wool. Produced from the correct quarter-inch depth wool and sewn with 100% cotton thread, with cotton ticking on the inner seams. Ruggedly constructed, including strong zigzag cover stitch, horsehide trim and five-panel assembly. If we don't hear from you we will assume'no stamping'.
The USAAF B-2 winter flying cap proved to be very popular in WW2 with American airman and can be seen on many original USAAF pictures of aircrew. Officially called the "Cap, Flying, Winter, Type B-2" it was issued in April 1939 to U. Many airmen added rank insignia, painted on their nicknames and added'mission' symbols such as'bomb' insignia.
These are a nice snug fit so please ensure you measure your head correctly as each cap is individually size checked twice before sending - if the size is wrong then you have measured wrong! Rest assured this is one of the most, if not the most authentic reproduction available, most copies use imitation wool, do not use ticking or do not have the correct label or USAAF markings! WW2 B-2 Winter Flying Cap.
The Following pictures show the B-2 Winter Flying Cap in use during WW (pictures not for sale). WW2 B-2 Winter Flying Cap with Army Air Forces Stamp front left.
Original B-2 Winter Flying Cap decorated with badge (not for sale). German: WW2 USAAF (Luftstreitkräfte der US-Armee) A-2 Winter Flying Cap. Seien Sie der Neid Ihrer USAAF-Freunde und tragen Sie eine korrekt gefertigte und gekennzeichnete Reproduktion der USAAF B-2 Flight Cap, die auf einem Original aus dem Zweiten Weltkrieg basiert! Eigenschaften: Steife Lederspitze mit Lederhaut besetzt.
Außen aus 100% Leder und innen aus 100% Lammfell. Korrigieren Sie die inneren Nähte der Baumwolle.
Echtes Lammfell aus Schaffell, 1/4 dick gefüttert. US-amerikanisches Logo auf der Außenseite, falls erforderlich.
Korrektes Herstelleretikett auf der Innenseite aufgenäht. Unsere 1939 eingeführte Reproduktionskappe B-2 besteht aus dunkelbraun gefärbtem Schaffell mit innerer Lammfellwolle. Hergestellt aus der richtigen Viertel-Zoll-Wolle und genäht mit 100% Baumwollfaden, wobei Baumwolle an den Innennähten tickt. Robust konstruiert, einschließlich starkem Zick-Zack-Deckstich, Pferdefellbesatz und fünfteiliger Baugruppe.
Sie können es ohne den Stempel'ARMY AIR FORCES' oder mit dem Stempel kaufen. Die Winterfliegerkappe USAAF B-2 erwies sich im Zweiten Weltkrieg bei amerikanischen Fliegern als sehr beliebt und ist auf vielen originalen USAAF-Bildern von Flugzeugbesatzungen zu sehen. Offiziell "Cap, Flying, Winter, Typ B-2" genannt, wurde es im April 1939 an U. Viele Flieger fügten Rangabzeichen hinzu, malten ihre Spitznamen ein und fügten Missionssymbole wie Bombenabzeichen hinzu. Diese passen genau, also stellen Sie bitte sicher, dass Sie Ihren Kopf richtig messen, da jede Kappe vor dem Senden zweimal auf ihre Größe überprüft wird - wenn die Größe falsch ist, haben Sie falsch gemessen!
Seien Sie versichert, dies ist eine der authentischsten Reproduktionen, die es gibt. Die meisten Kopien verwenden Wollimitationen, verwenden kein Ticking oder haben nicht das richtige Etikett oder die USAAF-Markierungen! French: WW2 USAAF (United States Army Air Forces) A-2 Winter Flying Cap. Faites l'envie de vos compagnons de l'USAAF et portez une reproduction correctement faite et marquée de la casquette de vol USAAF B-2 basée sur un original de la Seconde Guerre mondiale!
Caractéristiques: Pic en cuir rigide garni de cuir. Extérieur 100% cuir et intérieur 100% peau de mouton retournée. Coton correct tachant les coutures intérieures. Véritable peau de mouton doublée de peau de mouton de 1/4 d'épaisseur.
À l'extérieur si nécessaire. Étiquette du fabricant correcte cousue à l'intérieur. Notre casquette volante B-2 de reproduction, introduite en 1939, est fabriquée à partir de peaux de mouton teintes en brun foncé avec de la laine de mouton intérieure. Fabriqué à partir de la laine de profondeur correcte d'un quart de pouce et cousu avec du fil 100% coton, avec du coton coutil sur les coutures intérieures.
Construction robuste, comprenant un solide point de recouvrement en zigzag, une garniture en cuir de cheval et un assemblage à cinq panneaux. Le bonnet d'hiver B-2 de l'USAAF s'est avéré très populaire dans la Seconde Guerre mondiale auprès des aviateurs américains et peut être vu sur de nombreuses photos originales de l'équipage de l'USAAF. Officiellement appelé le "Cap, Flying, Winter, Type B-2", il a été délivré en avril 1939 aux États-Unis. Équipage, y compris les équipages de bombardiers.
De nombreux aviateurs ont ajouté des insignes de grade, peints sur leurs surnoms et ajouté des symboles de «mission» tels que des insignes de «bombe». Il s'agit d'un ajustement parfait, alors assurez-vous de mesurer votre tête correctement car chaque casquette est vérifiée individuellement deux fois avant l'envoi - si la taille est incorrecte, vous avez mal mesuré! Soyez assuré que c'est l'une des reproductions les plus authentiques, sinon la plus authentique disponible, la plupart des copies utilisent de la laine d'imitation, n'utilisent pas de tic-tac ou n'ont pas l'étiquette correcte ou les marquages USAAF!
Italian: WW2 USAAF (United States Army Air Forces) A-2 Winter Flying Cap. Sii l'invidia dei tuoi compagni amici di USAAF e indossa un copricapo da volo USAAF B-2 riprodotto correttamente e marcato, basato su un originale della seconda guerra mondiale! Caratteristiche: visiera rigida in pelle rifinita con cuoio. Esterno in 100% pelle e interno in montone 100% shearling. Cotone corretto ticchettando le cuciture interne. Vero shearling di montone foderato spesso 1/4. Etichetta corretta del produttore cucita all'interno. Il nostro berretto da riproduzione B-2 introdotto nel 1939, è realizzato con pelli di montone tinte in marrone scuro con lana interna in shearling. Prodotta con la giusta profondità di un quarto di pollice di lana e cucita con filo di cotone al 100%, con cuciture in cotone sulle cuciture interne. Realizzato in modo robusto, include un robusto punto di copertura a zig-zag, finiture in pelle di cavallo e cinque pannelli. Il berretto invernale USAAF B-2 si è rivelato molto popolare nella Seconda Guerra Mondiale con un aviatore americano e può essere visto su molte immagini originali USAAF dell'equipaggio. Chiamato ufficialmente "Cap, Flying, Winter, Type B-2" fu rilasciato nell'aprile 1939 a U. Equipaggio incluso l'equipaggio dei bombardieri.
Molti aviatori hanno aggiunto insegne di rango, dipinte sui loro soprannomi e aggiunto simboli di "missione" come insegne di "bomba". Si tratta di una vestibilità aderente, quindi assicurati di misurare correttamente la testa poiché ogni cappuccio viene controllato singolarmente due volte prima di inviarlo - se la dimensione è sbagliata, allora hai misurato!
Siate certi che questa è una delle riproduzioni più autentiche, se non la più autentica disponibile, la maggior parte delle copie usa imitazione lana, non usa il segno di spunta o non ha l'etichetta o i segni USAAF corretti! Dutch: WW2 USAAF (United States Army Air Forces) A-2 Winter Flying Cap. Wees jaloers op je mede USAAF maatjes en draag een correct gemaakte en gemarkeerde reproductie USAAF B-2 Flight Cap gebaseerd op een origineel uit WO2! Kenmerken: stijve leren klep afgezet met leren huid. 100% leren buitenkant en 100% schapenvacht binnenkant.
Correct katoen tikt de binnennaden op. Echte schapenvacht shearling gevoerd 1/4 dik.
Logo aan de buitenkant indien nodig. Correct fabrikantlabel aan de binnenkant genaaid. Onze reproductie B-2 vliegenmuts die in 1939 werd geïntroduceerd, is gemaakt van schapenvachten die in donkerbruin zijn geverfd met innerlijke shearling wol. Geproduceerd van de juiste wol met een dikte van een halve centimeter en genaaid met 100% katoenen draad, met katoenen tijk op de binnennaden. Robuust geconstrueerd, inclusief sterke zigzag-deksteek, paardenhuidafwerking en vijf panelen.
De USAAF B-2 wintervliegmuts bleek erg populair in WW2 bij de Amerikaanse vlieger en is te zien op veel originele USAAF foto's van vliegtuigbemanning. Officieel de "Cap, Flying, Winter, Type B-2" genoemd, werd het in april 1939 uitgegeven aan U. Veel vliegers voegden ranginsignes toe, schilderden op hun bijnamen en voegden'missie'-symbolen toe, zoals' bom'-insignes. Deze passen goed, dus zorg ervoor dat u uw hoofd correct meet, want elke dop is individueel maat twee keer gecontroleerd voordat u deze verzendt - als de maat verkeerd is, heeft u verkeerd gemeten! Wees gerust, dit is een van de meest, zo niet de meest authentieke reproductie die beschikbaar is, de meeste exemplaren gebruiken imitatiewol, gebruiken geen tijk of hebben niet het juiste label of USAAF-markeringen!
Japanese: WW2 USAAFA-2USAAFWW2USAAF B-2 1001001/4U. ARMY AIR FORCES 1939B-21/41005 ARMY AIR FORCES USAAF B-2USAAFB-219394 2 1USAAF. Polish: WW2 USAAF (United States Army Air Forces) Czapka zimowa A-2 A-2. Zazdroszcz swoim kolegom z USAAF i no prawidowo wykonan i oznaczon reprodukcj czapki lotniczej USAAF B-2 na podstawie oryginau z II wojny wiatowej! Cechy: Sztywny skórzany daszek obszyty skór. 100% skóra zewntrzna i 100% kouch wewntrzny. Prawidowa bawena zaznaczajca szwy wewntrzne. Oryginalna podszewka ze skóry owczej z podszewk o gruboci 1/4. Na zewntrz w razie potrzeby. Prawidowa etykieta producenta wszyta od wewntrz. Nasza reprodukcyjna latajca czapka B-2 wprowadzona na rynek w 1939 roku, wykonana jest ze skór owczych barwionych na ciemnobrzowo z wewntrzn wen strzyc. Wykonany z waciwej weny o gbokoci wier cala i uszyty w 100% z nici bawenianej, z bawenianymi naszywkami na wewntrznych szwach. Wytrzymaa konstrukcja, w tym mocny cieg zygzakowaty, wykoczenie skóry bydlcej i piciopanelowy monta. Moesz go kupi bez stempla ARMY AIR FORCES lub ze stemplem, po prostu napisz do nas przed zakupem, gdzie chcesz naoy stempel - zwykle przedni lewy, ale take wany lewy tylny, a centralnie na szczycie szczytu. Zimowa czapka latajca USAAF B-2 okazaa si bardzo popularna podczas II wojny wiatowej wród amerykaskiego lotnika i mona j zobaczy na wielu oryginalnych zdjciach zaogi lotniczej USAAF. Oficjalnie nazwany Cap, Flying, Winter, Type B-2, zosta wydany w kwietniu 1939 r. Zaoga lotnicza, w tym zaogi bombowców. Wielu lotników dodao insygnia rang, malowane na pseudonimy i symbole misji, takie jak insygnia bomby. S dobrze dopasowane, wic upewnij si, e prawidowo mierzysz gow, poniewa kada czapka jest dwukrotnie sprawdzana pod wzgldem rozmiaru przed wysaniem - jeli rozmiar jest nieprawidowy, oznacza to, e le zmierzye!
Zapewniamy, e jest to jedna z najbardziej, jeli nie najbardziej autentyczna reprodukcja, wikszo kopii uywa imitacji weny, nie uywa tykania lub nie ma prawidowej etykiety lub oznacze USAAF! Danish: WW2 USAAF (United States Army Air Forces) A-2 Winter Flying Cap. Vær misundelse af dine kolleger i USAAF, og bær en korrekt lavet og markeret reproduktion USAAF B-2 Flight Cap baseret på en original fra WW2!
Funktioner: Stift lædertop beskåret med læderhud. 100% ydre læder og 100% klippet fåreskind.
Korrekt bomuld, der krydser de inderste sømme. Ægte fåreskindskårforet foret 1/4 tykt. Korrekt fabrikantmærke syet på indersiden.
Vores reproduktions B-2 flyvende cap introduceret i 1939, er lavet af fåreskind farvet i mørkebrun med indvendig klirring. Fremstillet af den rigtige uld dybde i dybde og syet med 100% bomuldstråd med bomuld krydsende på de inderste sømme. Robust konstrueret, inklusive stærk zigzag-dækkesøm, hesteskindstrimler og fempanels samling. USAAF B-2 vinterflyvende cap viste sig at være meget populær i 2. Verdenskrig med den amerikanske flyver og kan ses på mange originale USAAF-billeder af flybesætningen. Officielt kaldet "Cap, Flying, Winter, Type B-2" det blev udstedt i april 1939 til U. Mange flyvere tilføjede rang insignier, malede på deres kaldenavne og tilføjede'mission' symboler såsom'bombe' insignier. Disse er tætsiddende, så sørg for, at du måler dit hoved korrekt, da hver hætte er individuelt størrelse kontrolleret to gange før afsendelse - hvis størrelsen er forkert, har du målt forkert! Du kan være sikker på, at dette er en af de mest tilgængelige, hvis ikke den mest autentiske reproduktion, de fleste eksemplarer bruger imiteret uld, bruger ikke kryds eller har ikke den rigtige etiket eller USAAF-markeringer! Spanish: WW2 USAAF (Fuerzas aéreas del ejército de los Estados Unidos) A-2 Winter Flying Cap. ¡Sé la envidia de tus compañeros de USAAF y usa una reproducción correcta y marcada de USAAF B-2 Flight Cap basada en un original de la Segunda Guerra Mundial! Características: pico de cuero rígido adornado con cuero. 100% cuero exterior y 100% piel de oveja interior. Corregir algodón marcando las costuras internas. Piel de oveja genuina forrada de 1/4 de espesor. En el exterior si es necesario. Etiqueta correcta del fabricante cosida en el interior. Envíenos un correo electrónico inmediatamente antes o después de la compra para informarnos si desea estampar el logotipo de'FUERZAS AÉREAS DEL EJÉRCITO' y dónde lo desea. Nuestra gorra volante B-2 de reproducción, introducida en 1939, está confeccionada con pieles de oveja teñidas en marrón oscuro con lana de oveja interior. Producido a partir de la lana correcta de un cuarto de pulgada de profundidad y cosido con hilo de algodón 100%, con marcas de algodón en las costuras internas. Construcción robusta, que incluye una puntada de cubierta en zigzag fuerte, molduras de cuero de caballo y ensamblaje de cinco paneles. Puede comprarlo sin el sello'FUERZAS AÉREAS DEL EJÉRCITO' o con el sello, solo envíenos un correo electrónico antes de la compra donde desee que se aplique el sello, normalmente delante a la izquierda, pero también válido detrás a la izquierda y en la parte superior del pico centralmente. La gorra de vuelo de invierno USAAF B-2 demostró ser muy popular en la Segunda Guerra Mundial con el aviador estadounidense y se puede ver en muchas imágenes originales de la tripulación aérea de la USAAF.
Oficialmente llamado "Cap, Flying, Winter, Type B-2", se emitió en abril de 1939 a U. Tripulación aérea incluyendo tripulaciones de bombarderos. Muchos aviadores agregaron insignias de rango, pintadas en sus apodos y agregaron símbolos de'misión' como insignias de'bomba'.
Estos se ajustan perfectamente, así que asegúrese de medir su cabeza correctamente, ya que cada gorra se verifica individualmente dos veces antes de enviarla: si el tamaño es incorrecto, ¡ha medido incorrectamente! ¡Tenga la seguridad de que esta es una de las reproducciones más auténticas, si no la más auténtica disponible, la mayoría de las copias usan lana de imitación, no usan marcas o no tienen la etiqueta correcta o las marcas de USAAF! The item "B-2 Flying Cap USAAF Winter WW2 B2 US Army Air Forces Leather Sheepskin Hat WWII" is in sale since Thursday, July 9, 2020. This item is in the category "Collectables\Militaria\Other Militaria\Air Force".
The seller is "warhats_auctions" and is located in Bedfordshire. This item can be shipped worldwide.
Modified Item: No
Country/Region of Manufacture: United States
Country/ Organization: United States
Issued/ Not-Issued: Issued
Theme: Militaria
Type: Uniform/ Clothing
Conflict: World War II (1939-1945)
Clothing Type: Helmets/ Hats
Service: Air Force
Era: 1914-1945

---