WWII Speed Graphic US Army Air Force USAAF Camera Ground Type C-3 Graflex 4x5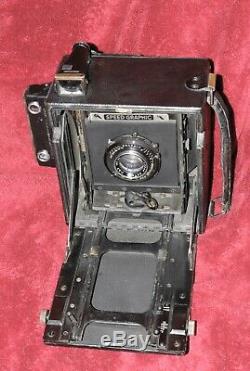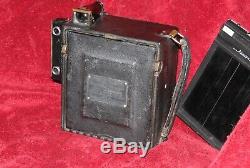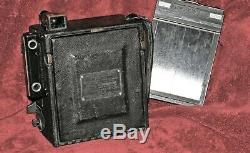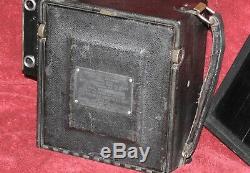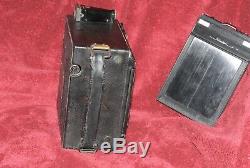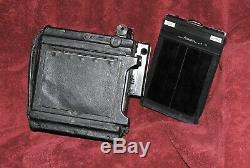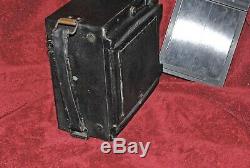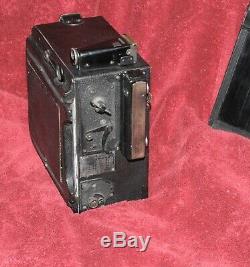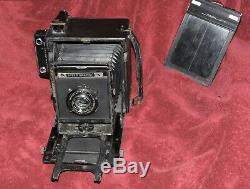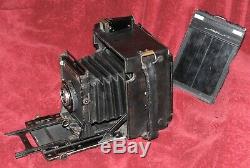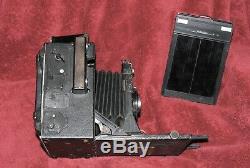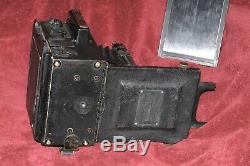 Camera : Camera-Ground, Type C-3 Folmer Graflex Anniversary Speed Graphic "45" (4X5 format). Kodak Ektar 127mm f 4.7 in a recently-serviced Supermatic shutter.
Camera Back: Graflex Graphic "Spring back". Clear split image; not adjusted for current lens. This is a WWII United States Army Air Force C-3 Speed Graphic. It was officially issued with one of several known between-lens shutters; in this case, the black Supermatic shutter. This camera worked, as of today's testing.
No warranties of usability or results for this gear, a bit older than most of us! Here is a partial list of adjustments made. The Supermatic shutter was cleaned, inspected, lubricated and speeds tested to within 20% of normal, which is damn good for a 70-odd year old.
The rear focal plane curtain shutter was cleaned and lubricated such that it operates throughout all speeds without bouncing or stalling. The bellows was inspected and potential for leaks was found, because this bellows was constructed from an early fabric that tends toward brittleness. I would still shoot film with this although I would not leave a dark slide open except when ready to shoot.
Cosmetic cleaning and restoration was made to the camera's exterior. The camera worked well enough at this point, and met or exceeded civilian needs for making pictures. Even so, here is a list of adjustments, cleaning, issues, and so on that would, presumably, bring the camera closer to 1944 USAAF recommendations. The Kalart Rangefinder did not measure accurate distances. It has bright and clear image separation.
It requires adjustment to be used with the present lens. The camera includes the distance scales, which are the two numbered vernier scale strips with arrows, often located along the rail. These may be out of adjustment. Presently, the most accurate focusing must be made using the ground glass.
Which I personally trust more than these other focusing measurements, anyway. Cosmetically, There are issues including.
A hole in the tube finder has been covered with fabric tape. The rear door is bent or warped.
Corners and edges of the leatherette have been worn through in spots. Dust and grime are apparent in hard-to-reach places. Lens glass shows signs of attempted cleaning, scratches, and pitting not immediately visible except under magnification, and may affect image sharpness in critical circumstances. The 127mm f4.7 Kodak Ektar lens has glass that is good. It can be trusted to produce good negatives, albeit the mentioned imperfections.
The shutter was recently cleaned and was operated throughout its range within repeatable reliability and within surprisingly normal tolerances, given its antiquity. The USAAF name plate shows corrosion, wear, and small dents; it is still clearly readable. Star Wars hipsters have plundered most of this period's original flash synchronizers and have inflated prices completely beyond reason, to the ruin of many of these historical artifacts. (Excuse the resentment of serious camera people:). I honor those whose images had been captured by some of these cameras: An uncle, a US Navy gunner in the 1942/45 Pacific Theater, in a B-24 Liberator. My father, US Army Corporal, who was in the 1944-45 Battle of the Bulge. While these men are gone, I like to think that we care for these cameras as tools of a vital story. My approach is to clean these and get them working and looking squared away, with an attempt to make them as useful as possible. I have studied the Graflex Speed Graphic since 1983. Keep gear exercised--work the shutters through all of its speeds a few times a month.
No warranties of usability or results for this gear, a bit older than most of us! You will find most folks very accommodating and willing to help with any problems or suggestions. Please do not expect or negotiate extra discounts over stated costs, as there are real costs for packaging and driving. We do usually interpret things in favor of buyers. We leave feedback AFTER buyers have indicated their satisfaction through their feedback.
If you are not satisfied, it will be because you did not allow us to help solve a problem. Otherwise, the item may become unavailable for sale.
It is just to discourage spoofs and robots; no offense. The item "WWII Speed Graphic US Army Air Force USAAF Camera Ground Type C-3 Graflex 4x5" is in sale since Friday, May 31, 2019. This item is in the category "Cameras & Photo\Film Photography\Film Cameras".
The seller is "felsingheuser" and is located in West Burke, Vermont. This item can be shipped worldwide.
Model: Graflex Speed Graphic
Country/Region of Manufacture: United States
Type: Large Format
MPN: C-3
Film Format: 4x5in.
Focus Type: Manual
Brand: Graflex
Speed Graphic Type: Anniversary Type C-3

---